EDCAMP LINGUIST POSITIVE CHANGE НАБЛИЖАЄТЬСЯ!
Вже зовсім скоро -
1 березня,
відбудеться наймасштабніша подія для вчителів та викладачів англійської мови в Україні -
EdCamp
! Вітаємо всіх учасників, які заповнили анкету та пройшли відбір!
До Вашої уваги представляємо спікерів, які проведуть експертні сесії на корисні та цікаві теми, а також поділяться своїм досвідом викладання та дадуть практичні поради.




National Geographic Learning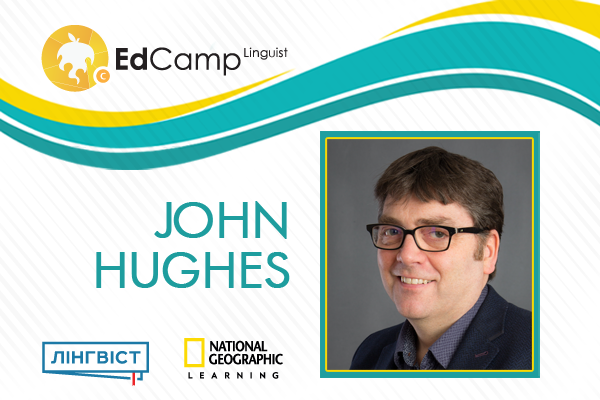 John Hughes (National Geographic Learning)
проведе дві експертні сесії про персоналізацію в навчанні та цінність відвідування уроків інших вчителів.
---
John Hughes is an award-winning ELT author and teacher trainer. With over 30 book titles, his best-known course series is National Geographic Learning's Life and he is also a co-author on the new third edition of World English. As a teacher trainer, he has run courses, workshops and given conference presentations in over 40 countries. His main specialism is materials development and bridging the gap between theory and practice. He still teaches and pilots his own materials with students in Oxford.
---
-The Classroom Observation Balancing Act-
Few of us would dispute the value of classroom observation but a growing number of educators are questioning the approaches taken. Is the purpose to assess or develop? Is peer observation really a positive experience? What can teachers take away from recording their lessons? In this session, the presenter will draw on years of experience as a teacher trainer and training manager to answer these questions. He'll address some of the theoretical and pragmatic questions that face school managers, trainers and teachers when implementing classroom observation. He'll also consider the ways in which technology may have a more useful role to play by referring to the results of a survey into the growing use of the 'selfie' classroom observation.
-Personalizing the impersonal-
Personalization in the classroom is an effective way to draw on the rich diversity of students' own knowledge and experience in order to make language more memorable. However, our application of personalization can often be quite limited. Perhaps we only use personalization at the beginning of a lesson to introduce the topic or to practise language in a superficial way. It's also easy to fall into the trap of making assumptions about what our students are willing to discuss. In this presentation, we'll look at what personalization really means, our motives for applying it, and we'll try out some practical activities which bridge the gap between the individual, the language and the wider world.
Cambridge University Press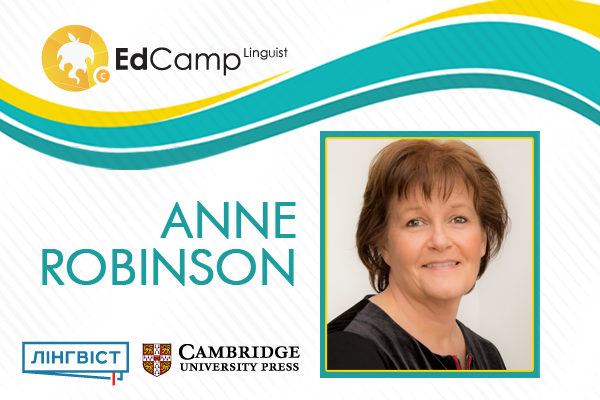 Від видавництва Cambridge University Press на EdCamp завітає Anne Robinson

---
ANNE ROBINSON is a seminar presenter for Cambridge University Press and trains teachers online and at international conferences regularly. She is the author of Fun for Starters, Movers and Flyers and of the Exam Booster for Advanced.
---
Анна проведе дві сесії на тему підтримки та розвитку життєвих умінь в учнів молодшої та старшої школи на уроках англійської, збалансованого навантаження та інтеграції учнівської свободи в освітній процес.

-Support, challenge, choice in the primary classroom-
How can we engage our every young learner in our classroom? By supporting every class member. By challenging learners to be creative and critical. By helping them develop life competencies. And by giving them a say in what they do. Find out how to do these things in this hands-on session.
-Support, challenge, choice in the teenage and adult classroom-
To help learners achieve success and take responsibility for their language learning, we need to involve everyone in the class and make content and activities relevant. Come along, get involved and choose what's relevant for you!

MM Publications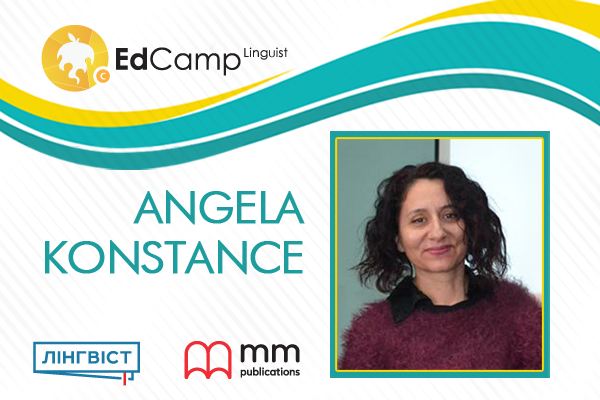 Angela Konstance із видавництва MM Publications проведе дві сесії на цікаві та хвилюючі теми, наприклад, що означає бути сучасним вчителем та як стати Супервчителем у звичайній школі, маючи при цьому обмежені ресурси.

---
Angela Konstance. Born in Sydney, Australia. She completed her Bachelor and Master's degree in teaching English at Macquarie University, Australia. She has had extensive experience in Primary and Secondary schools in Australia and Europe. She is involved in teacher's training. She also works with MM Publications as a teacher trainer.
---
-How does an individual learn something new when the topic is brand new to that person?-
(Plato – Greek philosopher 428 BCE – 347 BCE)
In ancient times, it was philosophers and scholars, in modern times, it is psychologists and educators who try to discover and record new learning theories and techniques which best suit learners. Today, we'll be looking at six modern theorists that all teachers should know! A focus on how their work is put into practice in our classrooms will be given.
-Bring out the best in you, to bring out the best in your students-
The demands of an 'ordinary' teacher seem to be increasing every day. It would seem that Superteacher is required. However, are you Superteacher? And if not, how do you go about becoming one? Stay tuned for practical ideas, on how to become Superteacher in a 'normal' school with 'normal' aids like a course book and the Interactive Whiteboard.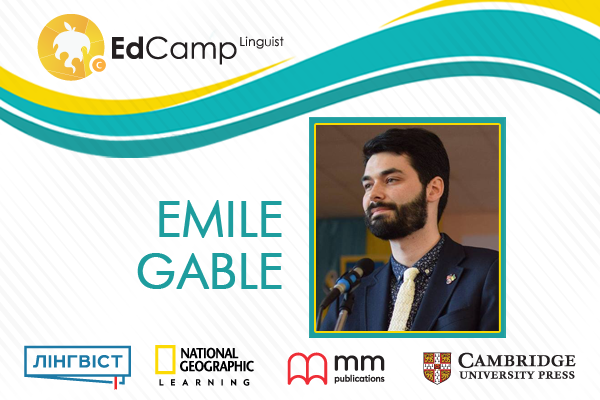 Emile Gable
До нашої експертної паралелі долучився керівник волонтерів Корпусу Миру – Emile Gable, який спробує розвінчати міф, що читання на занятті – це нудно.

-Reading is Boring!-
Participants will explore how average reading tasks at any grade level can be transformed into a communicative activity through experiential learning.
---
Before coming to Ukraine, Emile worked as a New York City Public High School Teacher in The Bronx. He eventually made his way to Thailand, Burma and Guatemala to teach English Language. Emile has lived and worked as a Peace Corps TEFL Teacher in Zalishchyky and now supports the Training and Programming Staff as Volunteer Leader in Kyiv. As a hobby, Emile enjoys baking desserts from his time spent working in a French Bakery. He also enjoys taking piano lessons, studying Ukrainian cooking and culture.

---
Katherine Martinkevich
Katherine Martinkevich проведе надзвичайно актуальну сесію про постановку цілей, самооцінювання та створення карти розвитку учнів.
-The Purple Pen of Progress-
The talk will focus on the ways English language teachers can contribute to a greater sense of progress in their classrooms. From goal-setting and road-mapping activities to peer assessment and self-improvement - you will hear about a range of techniques that you can immediately take to your learners and help them achieve more.
---
Katherine Martinkevich is an academic manager at the British Council Ukraine. She has been teaching English for more than 22 years, and training and supporting other teachers for at least half of that time. She has spoken at multiple international conferences in the UK and Ukraine and at the Teacher Skills Forum in Jordan; her interests include Academic English, exam preparation, soft skills and educational psychology. She is currently doing her second MA with the Norwich Institute for Language Education.
---
Kateryna Protsenko
Катерина проведе сесію про те, як налаштуватися на зміни та почати власний розвиток з маленьких, але конкретних кроків на кожному уроці, працюючи в реальних умовах, не втрачаючи кінцевої цілі та рухаючись поступово вперед.
-Small is beautiful - the power of tiny steps-

When we are nearing the destination of some great journey we often forget that the adventure began with small steps. Small but important steps. We focus so much on our big goals that we fail to remember that 'timeless piece of wisdom: 'small is beautiful' it isn't always the grand gesture that most empowers people. It's not that new course book we start using, it's not that amazing new trick we incorporate into our lessons. Sometimes it is those seemingly ''small' moments when we move a little step forwards that can have the biggest impact: a little more attention to our students, a little more practice, a bit of drilling after feedback. This talk is going to remind us of the 'small but beautiful' things we all do in class which are the things which actually bring about change in our students' minds and our students' lives.
---
Kateryna Protsenko has experience of teaching English to students of all levels and age groups, as well as experience of running the Academic Department, Teacher Training Department and working on pre-service and in-service training courses at schools and private language schools.
In the recent years Kateryna has been doing a lot of teacher training and teacher trainer training in a number of countries, including Ukraine, Turkey, Lebanon, Thailand, the UK and Greece as a trainer on Cambridge CELT-P, CELT-S, CELTA and Delta courses, and as a Cambridge examiner for all exams. She is also a co-author of Exam Booster for ZNO.
Kateryna has also attended and presented at major conferences in Ukraine, the UK, Spain and Poland in the past 3 years. Her main interests include psychology of learning, mentoring, coaching, and other aspects involved in making learning effective.
---
Chris Reese
Chris проведе сесію про надання рівних освітніх можливостей для всіх учнів, адаптації матеріалу під потреби дітей та дорослих з різними стилями навчання, психологічними та емоційними потребами.
-Meeting learners in the middle - how to help all of our learners reach their potential-
One of the biggest challenges in teaching anything (not only languages!) is that all of our different students are, well, different! They have different backgrounds, they each have their own strengths and weaknesses, and they each have their own needs and interests. Yet, more often than not, when teaching we often expect all of our learners to progress using the same cookie-cutter lesson we would give to any student - and then we're surprised when some of our students fall behind! In this session, participants will be looking at teacher-friendly methods of adapting our lessons to include learners of both various ability levels and different emotional or educational needs. The session will also look at some of the most common criticisms of these approaches, and examine what can be done to resolve these issues.
---
Chris Reese is a Delta-qualified teacher of English and CELTA/CELT-S trainer who also works as the Director of Studies at International Language Centre, Kyiv. He is also the co-author of Exam Booster! ZNO and Exam Booster ZNO Listening, and has experience teaching groups of all levels and ages - although his favorite are his secondary learners. His main interests at the moment are inclusivity and how we can maximize the progress that all of our learners make, regardless of their backgrounds and abilities.

---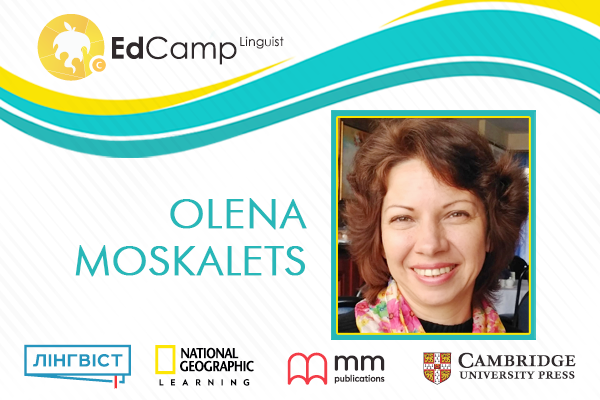 Olena Moskalets
Олена розповість про свій досвід роботи зі студентами університету і поділиться думками щодо створення умов для самостійного розвитку і навчання.
-Learner autonomy: myth or reality-
---
Olena Moskalets. English Philology and Translation Department, Borys Grinchenko Kyiv University
Olena Moskalets has been teaching English for about 20 years. Since 2015 she has been an active participant of the New Generation School Teacher project with the British Council, implementing new ideas in pre-service teacher training and sharing best practices with colleagues.
---
Oksana Konoplia
Оксана проведе надзвичайно актуальну сесію з того, як давати зворотній зв'язок учням на уроці, адже часто – чи не найголовніша частина завдання – це фідбек. Як правильно його давати, коли саме та на чому фокусуватись – на сесії Оксани Коноплі.
-We've always done it this way. Giving feedback efficiently-

Have you ever felt that your feedback in classroom fell on deaf ears and instead of making progress your learners are consistently making the same mistakes
This workshop will provide the knowledge on the types of feedback as well as practical tools and methods of error correction for different learners in various language and systems lessons.
We will discuss the difference between an error and a mistake, types of feedback, feedback on content in various activities, giving personalized feedback to meet learner's educational needs, different methods of error correction in activities focused on fluency, time-efficient error correction techniques, striking the balance between overcorrection and undercorrection.
---
Oksana Konoplia is a CELTA and DELTA qualified English teacher, who's been sharing her knowledge with both kids and adults for over 10 years. Over the last 3 years she's been managing teaching staff as well as academic projects in a well-established educational company – STUDY Academy.
Oksana has visited England, Canada and the USA, living in an English-speaking environment and exploring different ways and approaches to teaching English as a foreign language there.
Oksana has passed several internationally recognized English exams (IELTS Academic Module band score 8.0 and TOEFL Ibt score 109) and helped numerous students prepare and succeed in these examinations. At present she works as an Academic Director at STUDY.UA and STUDY Academy, facilitating professional development for STUDY Academy teachers.
---
Рекомендуємо ознаймитися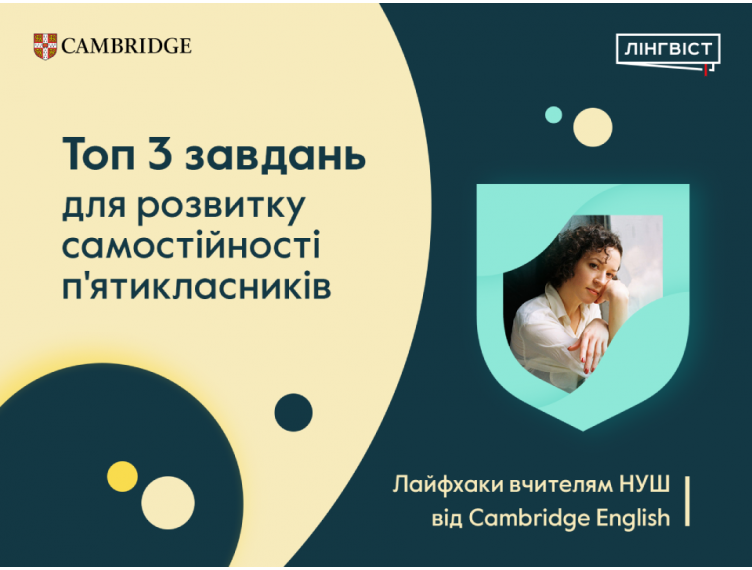 У цій статті ми розглянемо завдання, що розвивають саме компетентність – Уміння вчитися протягом життя.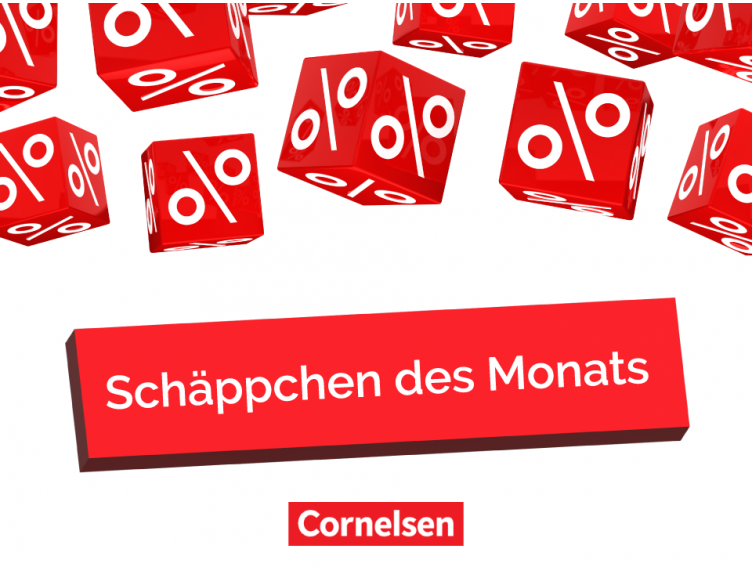 Immer günstig!
Ab sofort können Sie sich wieder ein mega Schnäppchen sichern!
Нові виклики, новий методичний підхід, нові підручники — про все це на вебінарі «Das Leben - ein Konzept und seine Umsetzung» 30 вересня 2022.